From saving to prosperity
28 Sep 2017
Originally published in The Ukrainian Week on 15 September 2017
How energy efficiency helps energy security and saves for the future
One of the least energy efficient countries on the planet, Ukraine has adopted a pattern of high-energy, carbon-intense consumption. Its energy intensity (calculated as units of energy per unit of GDP) is three times higher than the EU average. The country is not even on track to meet its own national target of a 9 percent improvement in energy efficiency by 2020. Despite having the 63rd largest GDP in the world, Ukraine is the 27th largest emitter of greenhouse gases.
Ukraine's outdated energy infrastructure is in dire need of major upgrades. Most of the country's thermal power stations have never been refurbished since their creation, on average 40 years ago. Ukraine's housing and municipal sector is four times less energy efficient than in the average Western European country, and devours almost 45 percent of the country's energy. Inefficient central heating systems waste an enormous amount of gas — with 22 percent of its energy wasted during production, 25 percent during transportation and 30 percent during distribution (including by end users). Updating and rehabilitating Ukraine's energy infrastructure will require billions of dollars of investment.
How to make energy efficiency a reality?
For this to change, a modern legislative framework is needed. The government needs to address the legislative and procedural issues that slow or prevent investments in energy efficiency. It has taken its first steps by passing laws on the energy efficiency of buildings, on commercial metering, for the market development of private energy service companies (where private investors provide technical and financial solutions for energy-efficiency investments) and establishment of the Energy Efficiency fund. Planned legislation is expected to strengthen the energy efficiency regulatory environment, bringing it closer to European standards.
But as important as these steps are, much more needs to be done to make these laws fully operational. A significant cultural shift is needed. Policy and legislative efforts must be combined with initiatives to raise awareness of citizens and public servants on energy consumption. Households and public buildings (the most substantial sources of energy waste in the country) will require special support and guidance, including clear explanations of a range of financing opportunities. The potential of the private sector to invest in energy efficiency should be tapped further and the right incentives need to be created through regulatory frameworks. Policy instruments are essential to create such demand and reduce the risks of investments. Policy measures should focus on removing the barriers to investments in energy efficiency and supplementing these with direct financial incentives, such as tax breaks or price premiums.
Effective market mechanisms will be essential to improving energy efficiency in Ukraine. These can in fact provide the right signals, enable better investment decisions and ensure more certain returns on investments. To unlock financing for energy efficiency, the financing and banking sector need to demonstrate their strong engagement, including lowering interest rates and increasing long-term finance opportunities.
The United Nation Development Programme (UNDP) is building on its cooperation with the International Finance Corporation to provide significant support and technical assistance to a new energy efficiency and renewable energy financing mechanism. Launched in partnership with Oschadbank, the mechanism will provide new commercial banking products and services for biomass projects and (in a second stage) energy efficiency projects. The mechanism helps municipalities respond to legal and procedural challenges, and will provide vital technical assistance and support for business plan development, feasibility studies and loan applications. Its success will greatly enhance and expand investments in energy efficiency and renewable energy in Ukraine. This mechanism will be replicated and scaled up after it successfully finances a number of pilot initiatives.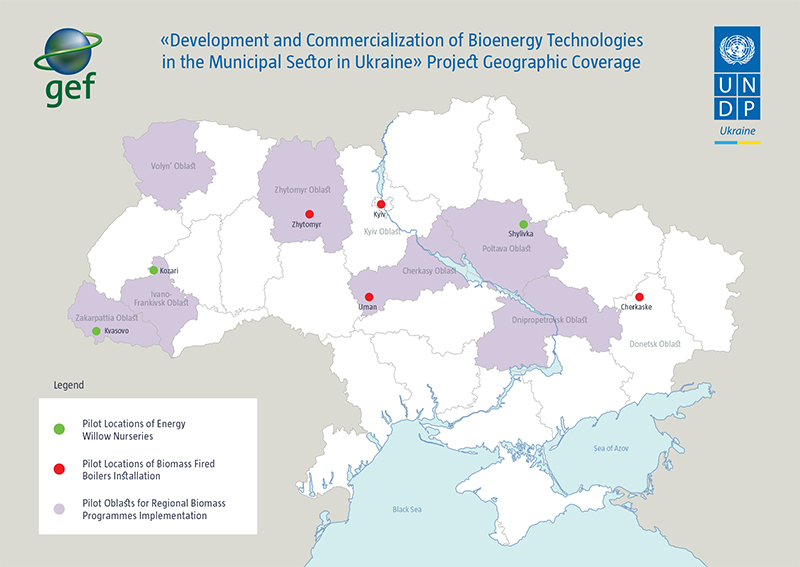 Another key to success is increasing the use of alternative energy sources, such as biomass. Every year, up to 60-70 million tons of straw are left unused in the fields of Ukraine, while they could be used to produce biomass and generate energy. Agricultural biomass shows great potential in Ukraine — it is relatively inexpensive, easy to scale up and creates an ecologically friendly fuel. Replacing natural gas with energy from straw will save money while improving Ukraine's environment. Working with local administrations and NGOs, UNDP is piloting the establishment of energy crop nurseries in Ivano-Frankivsk, Poltava and Zakarpattia oblasts. These plots of land are dedicated to cultivating crops purely for energy production, and are used as a proof of concept to promote biomass as a viable business opportunity for local farmers and land owners.
UNDP is also expanding its work on energy efficiency in the conflict-affected areas of Eastern Ukraine. For example, in Donetsk Oblast, UNDP is helping install straw-fired biomass boilers that provide heat and hot water services to key public buildings (including a secondary school, family clinics and a cultural and recreation centre). This fall, a better indoor environment is expected for school children and teachers, as average classroom temperatures will rise from an uncomfortable 15-18C to 20-22C. The new boilers are expected to reduce the local communities' gas bill by 80 percent. These pilots have demonstrated that biomass planting is a realistic and financially feasible endeavour that can be commercially scaled up throughout the country. Over time, biomass initiatives could play a significant role in helping Ukraine meet its energy and heating needs.
Excessive energy consumption brings great, unnecessary costs and poses unwarranted risks to energy security, trade balances, economic and social activities and health and environmental quality. There is vast potential to improve and achieve an impact in these areas. Energy efficiency affects everyone, from businesses to families keeping their homes warm. Collective actions are urgently required from the government, the private sector, civil society and communities alike to bring forward the energy efficiency agenda both nationally and in every single village, town and city of Ukraine.
Blerta Cela is UNDP Ukraine's Deputy Country Director